will be standing at a stallion-clinic in Germany during breeding season 2008.
Transport semen
Danny is available though fresh/ cooled semen in Europe.
For information contact www.bombeck-qh.de
Breeding Fee 2008
500 Euro at the time for Booking.
700 Euro when the pregnancy is 90 days (when possible to insure the fetus).
VAT included.
Breedingbonus
400 Euro if booking in 2007.
600 Euro breeding fee if the mare has performance record at leas one ROM.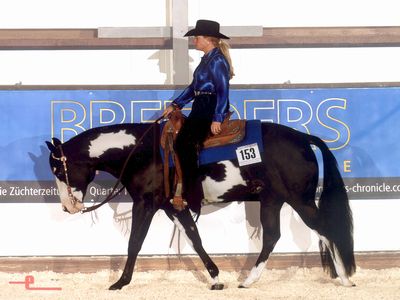 For more information please contact owener, Annika Müller-Hansen, phone +46 708 12 23 38.
Breeding Station 2008
Bombeck Stallion Service
Bombeck 24 - 48727 Billerbeck
Tel: 0049 (0)25 43-23 90 12
Fax:0049 (0)25 43-23 84 17
Sporty Danny will be paided in to
SSSP (German Futurity) Select Stallion Service Program 2008.
Read more on the website: www.phcg.de
APHA:s Breeders
Trust 2008. Read
more on the website: www.apha.com