Horse-Trucks
We are building horse-trucks of high quality based on the customer wishes, financial possibilities and needs.

Sven-Inge has many years of experience and he will do all he can to fulfil your thoughts about a truck for your horses. We can provide horse-trucks for normal driving license (two horses) and bigger once for truck license (3 horses or more + living).

Please contact
Sven-Inge for
further information
+ 46 708 482 139


SOLD, It is a Volvo 615, from -96. It has approximately gone about 40.000 Swedish miles. There are room for 4-5 horses that are separated with transport-walls and the horses are travelling to the side. Big luggage stores at the side of the truck, air spring system and an electric ramp.
There is a door between the horse section and the living. It is an extremely nice bathroom with shower, washbowl and a real water toilette.

The living it self is based on 2-3person. There are good, big storage and wardrobes. The kitchen is equipped with hot plate, fridge, microwave and sink.
An attached corner-sofa with a portable table provides a nice place to sit down together. Over the truck-cabin is a big bed for 2-3 persons.

For info. contact Sven-Inge +46 708 482139
__________________________________________________________
Below you can see some of the horse-trucks that Sven-Inge has delivered to customers.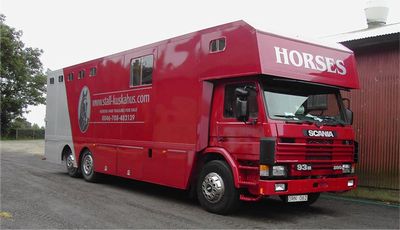 Scania P93, year model 1991, total 10,6 m long. Big luggage room in the compartments on the sides of the truck.
Room for four horses, travelling

to the side. No entrance between

the horses and the living, instead

there is a separate door to the

horses from the out side.

A perfect shell behind the horses

for luggage.

It is a big living approximately 6m, suitable for 4-6 persons. An entrance and shower with sliding door in to the living. The kitchen is from IKEA and so are the stove, microwave, fridge and sink. There are two areas in witch you can sit together and one of them is possible to arrange as a double bed.
_________________________________________________________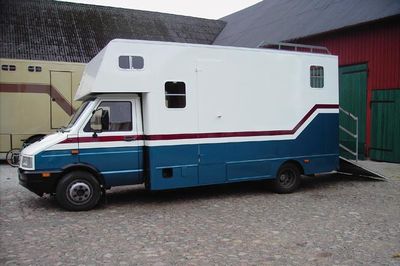 _________________________________________________________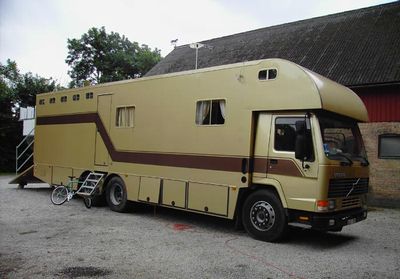 Smaller Horse-trucks
Below you can see a couple of smaller horse-trucks that Sven-Inge has delivered. This is a truck that you can drive with a normal driving license (truck less than 3.500 kg)